Tammy Strobel
Tammy Strobel is a writer, photographer, and teacher. Spending her free time taking photographs, walking, and hanging out with friends and family, Tammy lives in Northern California with her husband and two cats.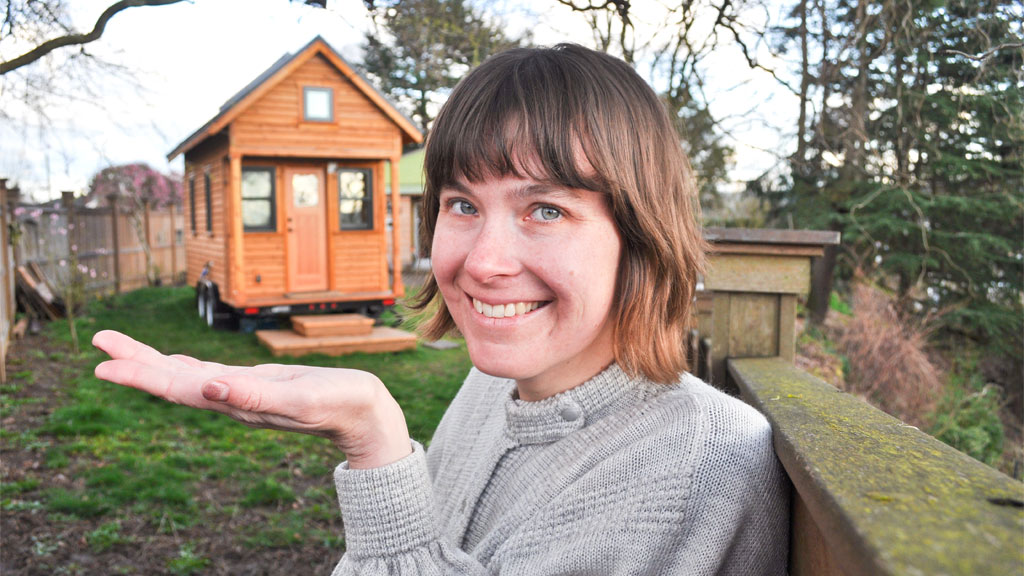 What is your morning routine?
In 2012, my morning routine fell apart. My dad became ill, and for the next five months I split my time between my parents' home in Northern California and Portland, Oregon. After my dad died, I felt paralyzed by sadness and started to sleep in late. Plus, we moved back to Northern California in 2012. I don't regret the move, but I wonder if it was the right thing to do. During this time, I felt uprooted, unsettled, and I had trouble getting back into my morning routine.
To counteract these feelings, I decided to create a different morning routine. I began a daily photography project that inspired me to get out of bed and begin the day in a positive way. Over two years later, I'm still taking my daily photo and sharing it on Instagram. I've also added new activities to my morning routine. I'm journaling, planning my day, and making additional time for photography. I feel better, more grounded, and inspired to do good work.
On weekdays, I get up between 5:15 and 6:00am. After I get out of bed, I do the following (and not necessarily in this order):
Splash cold water on my face, brush my teeth, and drink one glass of water.
Make coffee. While the coffee is brewing, I feed both cats and sing to them (yes, they are that spoiled).
Find a comfortable place to sit, and then get out multiple journals to free write and plan my day.
Take a photo of my morning view and talk with Logan, my husband, about our respective days. Besides drinking my first cup of coffee, this is my favorite part of the day.
My morning routine is a simple way to start my day; that's why I love it so much.
How long have you stuck with this routine so far?
Since January 1, 2013.
How has your morning routine changed over recent years?
I love getting up early in the morning because it's peaceful and quiet. That wasn't always true, though. As a teenager I slept in late. However, when I started college, I began getting up early for work and to study. Rising early became a key part of my daily ritual.
After college, I continued getting up early. I didn't have homework, but my work days were full and the mornings were the only time I could exercise. When we lived in Davis, California (2002 to 2008) I belonged to a swim team, and I attended the 6:00am practice. There is nothing like jumping into a heated outdoor pool to get your body moving.
Things changed when we moved to Sacramento, California. I didn't have access to a pool, so I started running with my friend, Kai. We would meet at 5:30am two or three times a week and go for a run. With Kai's encouragement, I completed a few half-marathons and even a full marathon! Sadly, I hurt my knee and had to find another activity to keep my body and mind happy; that's when I discovered yoga and walking. I've been doing both since 2009.
My morning routine has definitely changed over the years and I'm sure it will continue to change in the future. Right now, I'm experimenting with sketching in the morning. As a kid, I used to draw and color all the time. However, when I got into high school I stopped drawing. I want to learn how to draw again and I want to create visual art journals.
What time do you go to sleep?
I usually go to sleep between 9 and 10:00pm. I usually crawl into bed around 8:00pm and read.
I love reading before I go to sleep, especially during the fall and winter. During summer, I tend to stay up a little later because it's so beautiful out in the evenings.
Do you do anything before going to bed to make your morning easier?
I try not to check my phone before I go to bed. There are so many amazing articles that I enjoy reading online. However, reading on my phone tends to stimulate me. There's something about the glow on the phone that keeps me up way too long.
Do you use an alarm to wake you up in the morning, and if so do you ever hit the snooze button?
I have a bad habit of hitting the snooze button, so I try to leave my phone downstairs or at the foot of the bed. If the phone is near me, I will snooze the alarm and that delays my morning routine.
How soon after waking up do you have breakfast, and what do you typically have?
I don't eat breakfast right away. I usually have a couple cups of coffee and then I eat a breakfast bar or a handful of nuts at 8:00am.
Do you have a morning workout routine?
I used to have a morning workout routine and I miss it. Now, I exercise later in the morning (around 10:00am).
I'll go for a long hike in the park and dictate articles into my iPhone. I have a hard time sitting still during the day and my best writing and work ideas come to me when I'm walking in the park or doing laps in the pool. I love swimming laps and try to do that at noon or in the evening. Sadly, I don't have access to a year-round pool, so I take advantage of lap swim times during the summer.
Do you have a morning meditation routine, and if so what kind of meditation do you practice?
Journaling is my meditation. Writing in my notebook clears my mind and helps me stay rooted in gratitude. Without my daily journaling practice, I'd be less grateful and full of joy. Without my daily journaling practice, I think I'd go crazy.
I am a huge fan of Oprah and Deepak's meditation programs. I've purchased a few of their programs and will listen to the meditations on morning walks or in the afternoon. I don't structure formal meditation time into my schedule, though.
Do you answer email first thing in the morning or leave it until later in the day?
Generally, I try not to respond to email first thing in the morning. I'll usually check my inbox later in the morning or in the afternoon. When I check my email first thing, my morning routine is always derailed.
Do you use any apps or products to enhance your sleep or morning routine?
Sometimes I'll listen to an Oprah and Deepak meditation prior to falling asleep. It always seems to calm my mind. I love the meditation app.
Also, I'm huge fan of Instagram. I check Instagram in the morning and share my daily photos via the app. Right now, Instagram is my favorite place online because it's such a supportive community.
How soon do you check your phone in the morning?
I'll usually scroll through my Instagram feed when I make coffee. It doesn't take very long to look at the photos. From there, I focus on journaling, taking my daily photo, and enjoying my morning view. I try to keep screen time to a minimum in the morning.
What are your most important tasks in the morning?
Making coffee, taking my daily photo, journaling, playing with my cats, and talking to Logan, my husband and best friend, about the day ahead.
What and when is your first drink in the morning?
Water is the first thing I drink in the morning. Then, I drink coffee. Water and coffee consumption happen between the hours of 5:30 and 8:00am.
Do you also follow this routine on weekends, or do you change some steps?
For the last two months, I've been sleeping in a little later on the weekends. I've been getting up around 7:00am and that's been a nice shift in my weekend routine. Everything else stays the same, though. I still drink coffee, journal, take my daily photo, play with my cats, and talk with Logan.
On days you're not settled in your home, are you able to adapt your routine to fit in with a different environment?
So far, I've been able to stick with my morning routine when I travel to new places or visit friends and family in different cities.
Sticking with my morning routine helps me feel grounded and centered when I travel. For me, that's really important because I'm a creature of habit and sticking to a routine makes me feel healthier and more productive.
What do you do if you fail to follow your morning routine, and how does this influence the rest of your day?
If I don't follow my morning routine, I feel unfocused. When I'm in that state, I try to be kind to myself.
I'm working on treating myself with kindness and compassion right now. I know that probably sounds silly, but it makes a huge difference in my daily life. If I'm able to offer myself kindness and compassion, my day is always better.
---
If you enjoyed reading this morning routine interview, and have found value in what we've been doing for the past five years, it would mean the world to us if you could tell your friends and family about our book, and consider getting a copy for yourself.